Sometime during February i have decided to shift my focus from an European perspective to a local one. Unfortunately youth activity at European level is very feeble and with no support in sight from EGF or other institutions a change promises to be slow and long in waiting. 
In exchange we are scoring great successes at local level and it's pity to not invest more energy into it. So, i started brainstorming with Mihaela about what we can do and how far we can go at local and regional level. This is how new concepts and projects were born. Our main focus this year stays on the 101 Dorgonians project and ' The days of Japanese culture in Vatra Dornei'. Nevertheless this post is about  the Kitanishi project. 
In Japanese Kitanishi means NorthWest. This is about a cooperation project on a northwestern axis of Romania between Go clubs from Cluj Napoca, Bistrita and Vatra Dornei. We all focus on youth, and regional events are very motivating for them. For parents trips between those cities imply low costs therefore it's feasible to organize them often. 
The first act of the Kitanishi project happened, not surprisingly, once again in the Poiana guest house. Personally i would like to cycle our events through various villages from the Land of Dorna, in order to plant seeds there that would bloom later on. But this time the request from the Cluj group, who came in great numbers, was firmly for Poiana. This speaks well of how successful was our first experience there. 
At the same time, since the situation got a lot better with FRGO, we decided to engage in organizing again FRGO events and went for the Pair Go and Women tournaments. So it happens that at the end of April we had four very full days on our hands, with no less than four tournaments : Pair Go, Women, Open and beginners. This time over 60 youth aligned at the start line and it was really nice to see our playing hall full of youthful energy and enthusiasm.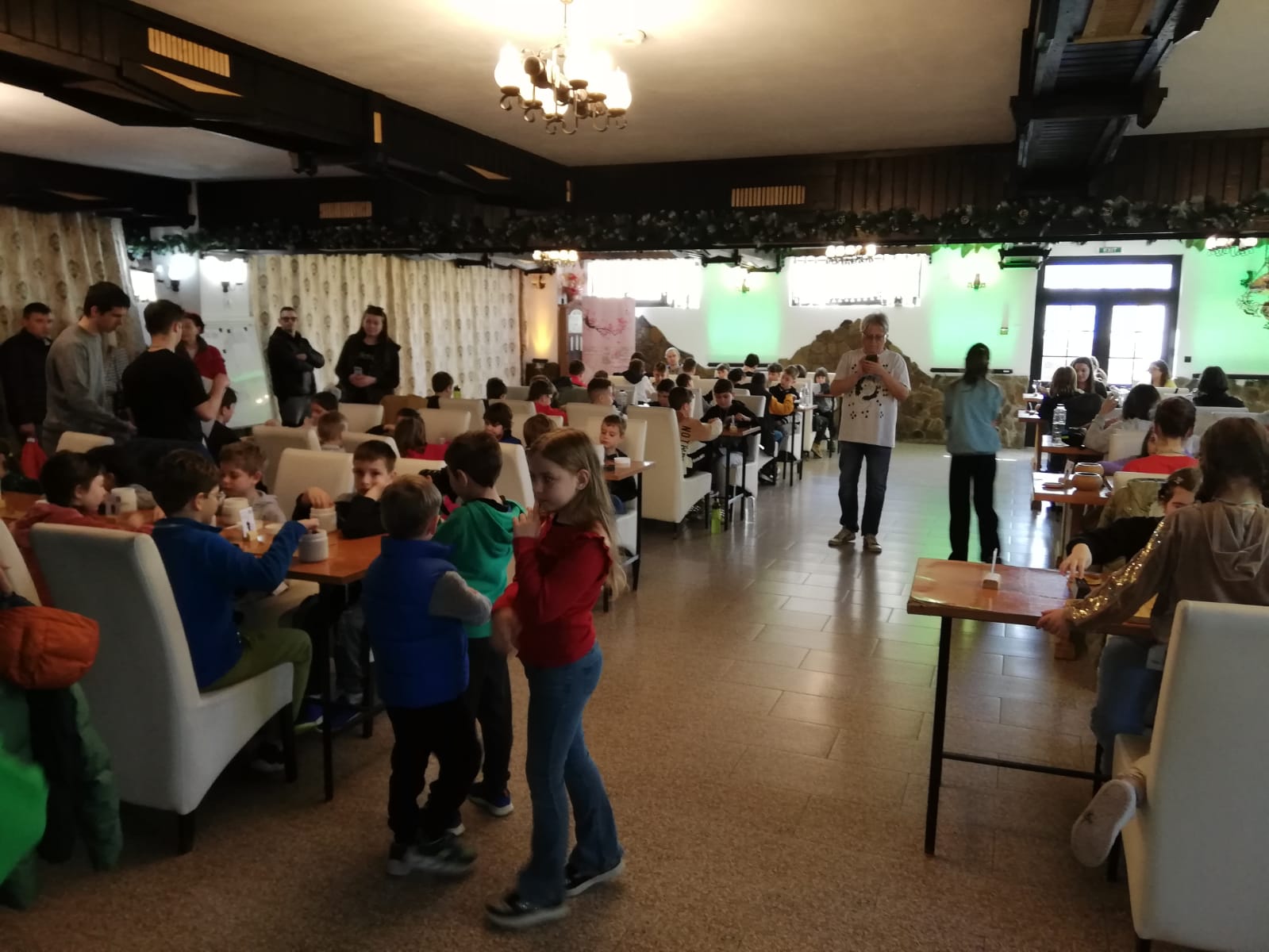 A key element in our regional activities is our capacity to train new referees from our older youth. We had Toto and Edi do a really great job , especially with the beginner tournament which is usually quite demanding. 
This time we didn't want snow so Hikaru's contribution to warm and shining weather was welcome. The playing grounds and football field were full of noise most of the time. 
A lot of fun prizes awaited participants, no one left empty handed. It is our custom to provide participation diplomas for youth, especially in the case of beginners. Beautifully crafted tsumeGo puzzles were the preferred participation prize this time around. 
The Pair Go tournament was, as expected, the highlight of the entire event. Even the youngest pairs took to  playing very seriously and the hall was unusually quiet, in stark contrast with the atmosphere during the beginner tournament. 
All in all it was yet another great experience. With our heartfelt thanks to our generous hosts, instructors and parents who make the activities possible, we are looking forward to the next event, which is actually just around the corner!
Catalin Taranu