Japanese Ambassador's Cup, 6th edition, Vatra Dornei,Romania
The first five editions of the Japanese Ambassador's Cup were organized in Bucharest, 2007-2011, by members of the Saijo club, led by Catalin Taranu 5p, in close partnership with the Embassy of Japan in Romania. This event held great significance for the Romanian Go community, sparking enthusiasm and inspiration for the organization of other large events like the Shusaku Cup or Iasi Cup. We're thrilled to announce that this tradition will continue after many years. The stunning Casino building from Vatra Dornei, an emblematic historical monument brimming with history, is the planned location, though the venue is yet to be confirmed.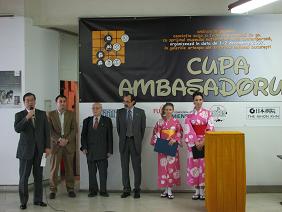 Japanese rules, 5 rounds with 1h thinking time and 30 sec byoyomi . Entry fees :20 euro or 100 Lei
Important notice!!! Due to construction works estimated to last longer than expected we decided to postpone the event until May 2024. The registration list will remain open and we will be back with updates as soon as possible. We apologize for any inconvenience caused . Thank you for your understanding!
Prizes : minimum 70% of entry fees. Depending on eventual sponsorship we will update this section.
Prize giving ceremony : Sunday 19.00 (schedule might change until the start of the event) . Participation at the closing ceremony is a must in order to receive the prize.